When my four year old hears me mention Umi Shoes his little face lights up. Umi shoes are his absolute favorite brand of shoes and one that has yet to fail me. These shoes are awesome for every day wear and have always held up fantastic!!
As most of you know over this past year
Umi Shoes
has added Umi Baby and recently added Umi Sport. Now the Umi Sport excited my four year old beyond belief, but I know I will still be added the traditional Umi style to his collection as well. Since he is now old enough to pick out the ones he wants, he chose the
Umi Sport Shane
. They are very easy for him to get on and if you ask him, he says they make him run really fast!
The Umi Sport Shane has the sleek styling of a European athletic shoe but is made to withstand every thing that little feet can put them through! They are very light weight and are apparently very comfortable. These have to be comfortable since my four year old never wants to take them off! They also offer a removable, machine washable anti-bacterial footbed that helps to keep little feet fresh!
Close up of the Umi Sport Shane
Now let's talk about Umi Baby. These came out before my one year old started walking, so I opted to not give them a try for the last review. When I do a review I want to be able to test out the entire product and since he wasn't walking at the time i knew I wouldn't be able to test out every thing. Can I now say I am kicking myself? These shoes are awesome!
Little Luke has fat little feet and in the past I have had to search high and low to find a shoe wide enough and comfortable enough to fit his foot. I wasn't sure how Umi Shoes would fit him since in the past they have always fit my four year old with a slim foot perfect, but I had no reason to worry.
We picked out the
Umi Baby Weelie
shoe for Luke in a size 22 and they fit great. His other shoes were size 6 and his toe was slowly getting to the end so I really feel that these Umi Baby shoes offer a true to size fit! They are very easy to get on and I love the flexibility.
Here is Luke wearing his Umi Baby shoes around the house as a house slipper. This tells me that they are comfortable on his little feet since he wants to wear them ALL the time! The minute I take them off, he brings them to me to put them back on. I will admit that I am guilty of hiding them from him from time to time. That's how much he loves them.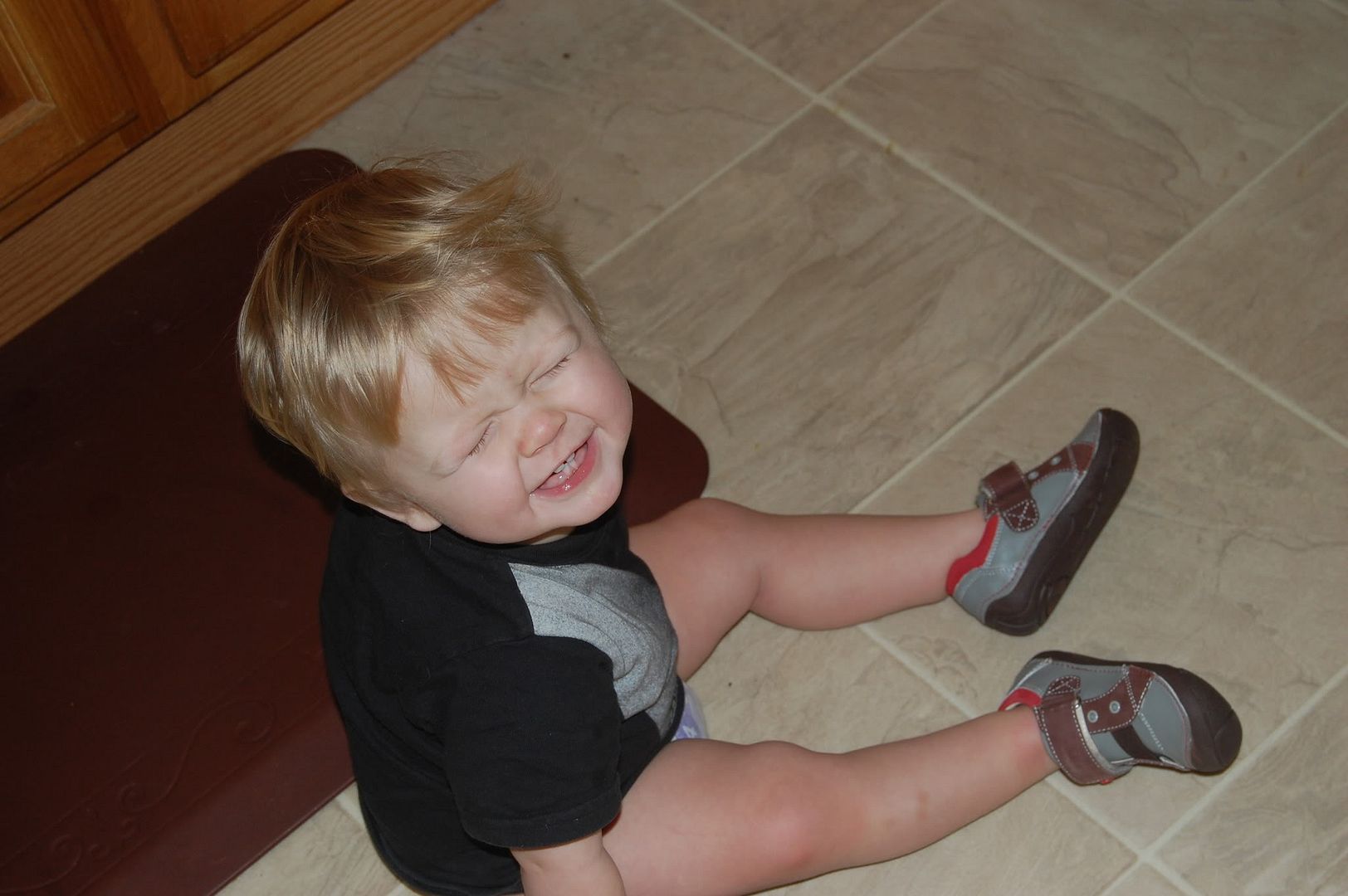 Being a ham showing off his Umi Baby Shoes
I tried to get an action shot but that was pretty much impossible. The kid runs like crazy in these shoes and every shot I tried to get ended up blurry. I did manage to snap a quick one looking down as he was waiting for a snack to give you all an idea of how they look with pants.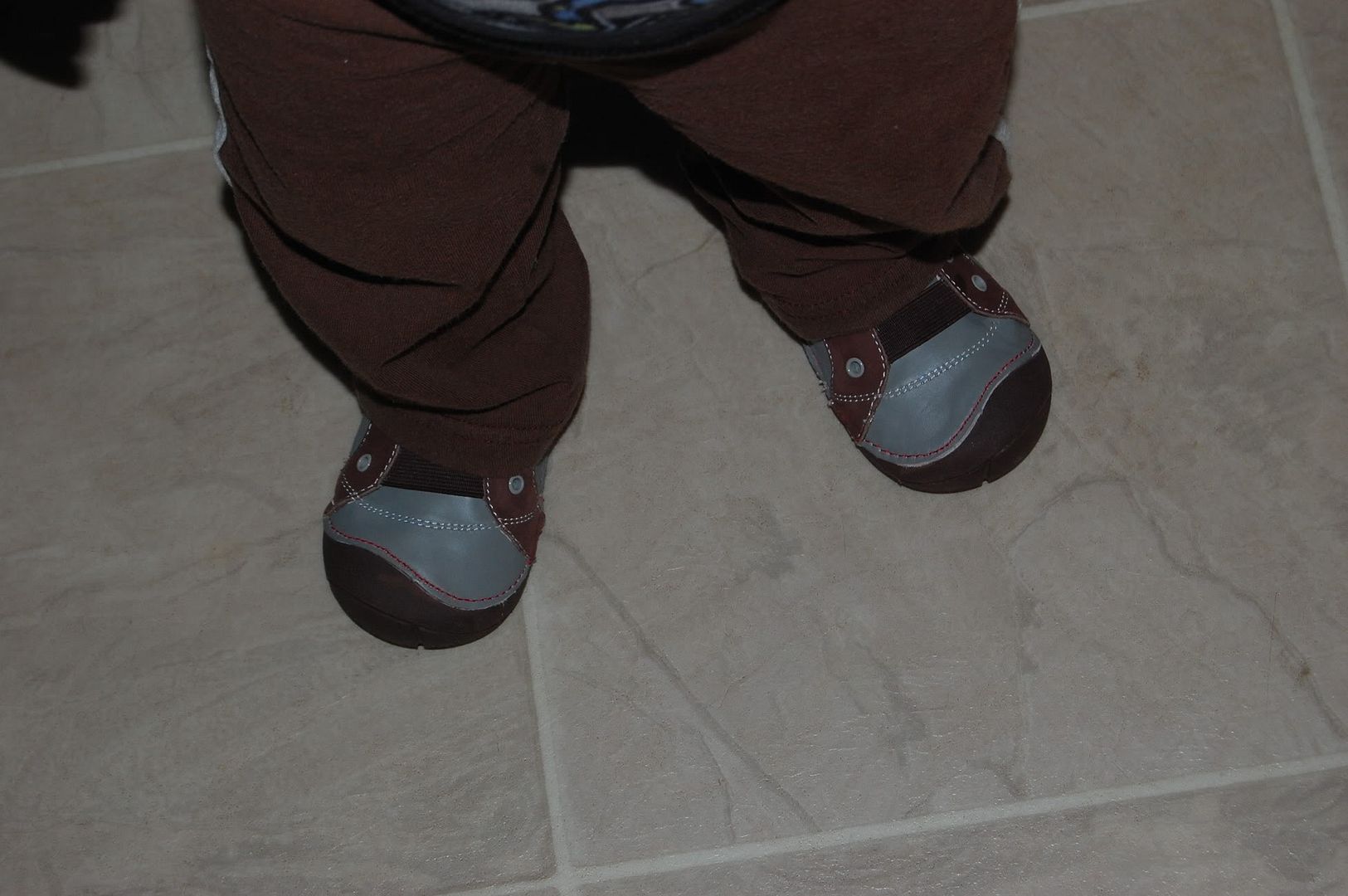 This is an awesome style and can easily go with his causal every day clothes and even his dress clothes. All in all I would highly recommend these shoes for any little one out there.
If you are currently looking to add new Spring shoes for your little ones, do check out Umi! They have such a wide selection and I personally highly recommend them.
WIN,WIN,WIN
$60 Umi Gift Card
Thank you to everyone that took time to enter this awesome giveaway. The winner was chosen using random.org and has been emailed.
MANDATORY ENTRY:
(Please Leave A VALID Email Address)
Visit
Umi
and take a look around, then come back here and tell me what shoe you would get if you won the giveaway
EXTRA ENTRIES:
To receive these extra entries, you must do the MANDATORY entry
Share this contest on your Facebook page and post the link here. This can be done once daily.
Tweet about the giveaway (can be done daily)
Add As They Grow Up to your Blogroll (2 entries)
Subscribe to As They Grow Up Via Email (Be sure to VERIFY your subscription)
Comment on a non-giveaway post and let me know which one(s)
One winner will be chosen! I will be using a random number generator to select the winner. Contest ends at 11:59pm EST on February 27, 2012. If the prize is not claimed in 48 hours a new winner will be chosen.Contest open to U.S. residents only. The winner will be emailed.
This is solely the opinion of As They Grow Up. Other people may have different experiences with the product.Thank you to Umi Shoes for providing a product to test.