With Mother's Day coming up next weekend many people are thinking about what to get mom. One thing that moms seem to always be is stressed and let's face it...no one will ever turn down a massage or the opportunity to be treated like a princess. With that being said, I say let the kids pick out a special gift for mom and then let dad give mom an extra special gift.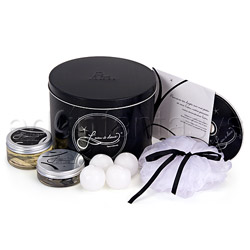 While looking through
EdenFantasys
I ran across the Leau a deux Sensual kit. This looks like an awesome kit and I can assure you that if my husband were to purchase me something like this that I would have no complaints whatsoever!
The
Leau a deux Sensual kit
comes attractively packaged which means that the guys don't have to really worry about wrapping a gift. Since most guys do not like to wrap I see this as a plus! The scent contains an aphrodisiac essence that smells fantastic! It's a light feminine floral scent that lingers on your skin long after you've left the bath. The candles add an erotic glow while soft jazz music plays in the background followed up with an erotic massage.
If any of my male readers are looking for a way to pamper their wives this Mother's Day, this sounds like a perfect gift and with EdenFantasys discrete and fast shipping the chances are excellent for it to arrive by the end of the week! The Leau A Deux Sensual Kit is priced at $68.99 and well worth the price.
This is solely the opinion of As They Grow Up. Other people may have different experiences with the product.Thank you to EdenFantasys for providing a gift card for this post.