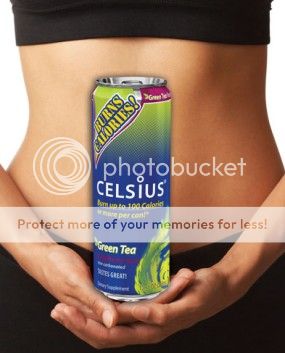 Summer is fast approaching, and I know personally that I still need to lose a few pounds before being in swimwear all the time. While on the look for a product to help me drop those few extra pounds, I ran across
Celsius
. Celsius claims to
burn 100 calories
or more per can. and offers 200mg of caffeine, which is the same amount as two cups of coffee.
After receiving Celsius, I put off trying it. I am not a huge caffeine drinker so I wasn't sure how my body could handle it. When I finally decided to take the plunge, I was pleasantly surprised. The first one I tried was the orange, being as I have always been a fan of orange soda. It had a great taste, and I could really feel the caffeine! I actually drank it in the a.m. and was still going strong up in the day. It gave me tons of energy and I was shocked at how much I was able to get done. Now as far as did it really burn those calories. I have no idea, but it sure kept me moving.
My husband also tried it, but he does drink several cups of coffee throughout a regular day. He said he really couldn't feel anything from it, but considering that he is used to alot of caffeine, I am sure that is probably why.
WIN,WIN,WIN
Curious to see how Celsius can help you with looking great at the beach or pool this summer. They are generously giving one of my readers the chance to win a sampling of their great tasting drinks.
MANDATORY ENTRY:
Visit
Celsius
and check out the different flavors available. Tell me what Flavor appeals to you the most!
Thank you to everyone that took time to enter this wonderful giveaway. Random.org picked #42 as the winner.




This is solely the opinion of As They Grow Up. Other people may have different experiences with the product.Thank you to Celsius for providing a product to test.